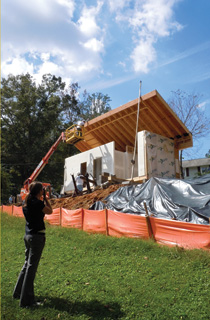 A New Norris House
Assistant Professor Tricia Stuth and Robert French; University of Tennessee, 2009-2011
Site: The project is located in Norris, Tennessee. In 1933 the Tennessee Valley Authority constructed this model community as part of the Norris Dam construction project. A key feature of this New Deal village was the Norris House, a series of homes built as models for modern and efficient living.
Program: In light of the 75th anniversary of the Norris Project, an interdisciplinary team of students and faculty reinterpreted the Norris paradigm and created a New Norris House — an 800 ft² sustainable home designed for the 21st century.
Concept: As with the original Norris designs, the New Norris House uses state of the art technologies and techniques. The house incorporates green materials, leverages energy conscious design strategies, and utilizes off-site construction methods. Yet the challenge goes beyond the creation of a model home design. The house design responds and is reforming community and legal constraints that currently deter sustainable home construction. To accomplish this, the project team consulted with community residents, researched local codes and worked with local and state government. The project also addresses affordability and "fit" in light of median home prices and the town's status on the National Register Historic District. The project thus confronts and resolves not only technological challenges; but also legal, social, and aesthetic issues that currently restrict green construction. The New Norris House is registered with the US Green Building Council and is certified LEED for Home Platinum.
This will be available for web viewing soon. In the meantime, it is downloadable below.