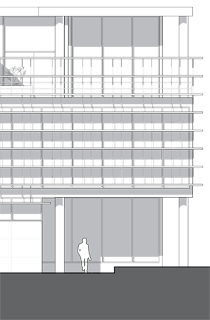 The Context of a Meal
Assistant Professor Tricia Stuth; University of Tennessee, Fall 2006
Site: The project is located the revitalized North Knoxville community of Knoxville, Tennessee. The urban corner site completes the block occupied by an adjacent row-house community.
Program: A 9000 ft² neighborhood market and café.
Concept: The façade is explored free of structural responsibilities and open to numerous expressions of interior, exterior, scalar, material, visual, and light conditions that further enhance the experience of programs and spaces. The procession of spaces is considered in relation to the process of "constructing" and consuming a meal. The façade system responds in a related manner.
This will be available for web viewing soon. In the meantime, it is downloadable below.