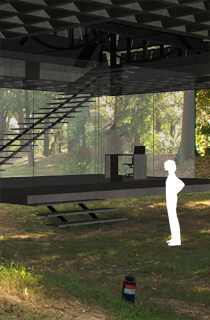 Museum for the U.S.S. Undine
Assistant Professor Ted Shelton; University of Tennessee, Fall 2008
Site: The project is located in the New Johnsonville State Park in East Tennessee. The site overlooks the Tennessee River and includes the remains of a Confederate redoubt which was used as an earth shelter during the course of battle.
Program: A 25,000 ft² museum and research center to house the remains of a recovered Civil War gunboat, the USS Undine. Residences and related programming for visiting scholars is also included.
Concept: The design solution stems from research into the protagonist of the Undine's tale, General Nathan Bedford Forrest, who was responsible for capturing and later scuttling the ship. As highly controversial (though highly influential and effective) battlefield leader, General Forrest's role in history is often debated and presents a clear example of the importance of impartial research and dissemination. The built response illustrates this through the structural system, material selection and detailing, and the interior exhibit design. Conversely, the project's siting, the organization of program, and the design of the façade systems are used to selectively allow and deny specific views to and from the landscape — an attempt to further depict the effects of bias distortion.
This will be available for web viewing soon. In the meantime, it is downloadable below.