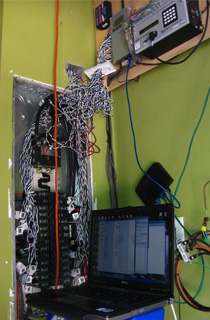 A New Norris House: Post-Occupancy Research
Assoc. Professor Tricia Stuth and Prof. Dr. Richard Kelso; University of TN, 2011-2013
At the conclusion of the home's construction period, I helped begin and later led a sophisticated monitoring and evaluation effort focused around a two year post-occupancy period of the home and landscape. My primary responsibilities included:
-Development of evaluation criteria
-Installation and troubleshooting of instrumentation
-Oversight and management of database
-Analysis and interpretation of results
-Dissemination of findings
Though the studies are ongoing, intermediary findings have indicated the home and landscape is largely performing as modeled. These conclusions have been included in multiple peer-reviewed articles as well as subject of an AIA sponsored continuing education webinar.
Selected Citations of Publication and Presentation