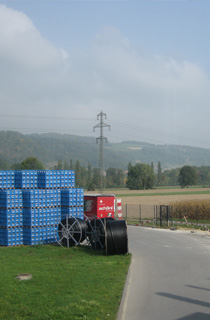 Henniez Water Bottling Factory
Chair of Dr. Josep Luís Mateo; ETH Zürich, Fall 2009
Site: The project is located near the small village of Henniez, Switzerland. The factory itself is situated in the contemporary arcadia; countryside consisting of the protective forest, agricultural fields, and habitations situated along the tortuous roads.
Program: A 240,000 ft² water bottling factory to replace the aging facility of the Henniez Company, an established mineral water producer in the Canton Vaud of Switzerland.
Concept: Though the bottling process has become increasingly more technological, the Henniez Company goes to great lengths to ensure that all bottled water is unaltered from the time it naturally rises to the surface level at the factory's source (1 km away) to the time it is eventually consumed. This business model is the core of the Henniez Company. The built response replicates the pureness of this concept by creating a simple, flexible production space with functional site connections to rail and roadway infrastructures. The façade treads as lightly as possible on the rolling landscape.
This will be available for web viewing soon. In the meantime, it is downloadable below.