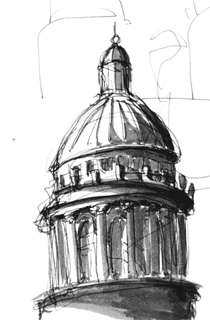 Grand Tour 2007: The Gulf of Finland
Professors Tricia Stuth and Ted Shelton; University of Tennessee, Summer 2007
In the summer of 2007 I was privileged again with the opportunity to travel abroad with the College of Architecture and Design for a three week sketching tour­— this time traveling around the Gulf of Finland. Through the course of our travels we visited Sweden, Finland, Russia, and Estonia examining architectural and cultural conditions of "palimpsest". A palimpsest by definition is a used piece of parchment that has been scraped clean or simply faded, allowing additional levels of information to be layered on top.

The once turbulent region around the Gulf of Finland exhibited this condition almost immediately. Places of unrest such as historical military embattlements (now romanticized as pastoral landscapes) of Helsinki and Tallinn rang the most clearly of a history of occupation and subsequent liberation. Others such as the Palace Square in St. Petersburg evoked a similar emotion, but are masked by a sense of nationalism and tourism. Though subtle, the palimpsest does exist, and knowledge of the scale and brutality of events such as the October Revolution allow access to the cultural history of the space.

Times of peace in recent era have brought prosperity to the region. Contemporary structures are melded within the historical context— sometimes forcibly (see McDonalds placed directly underneath Asplunds library to right), but often with greater care and success; adding again to the palimpsests and layers of available understanding.

The sketches completed during the tour attempted to capture experiential and representational quailities of these spaces and conditons.
This will be available for web viewing soon. In the meantime, it is downloadable below.