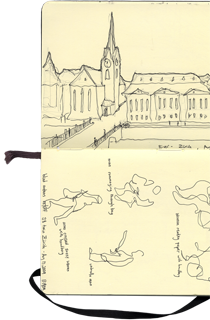 Semester Abroad: Switzerland
Zürich, Luzern, Basel, Dublin, Paris, etc; Self-guided sketching tour, Fall 2009
My travels in Switzerland during the summer of 2006 directly influenced my decision to return there as a fifth year and spend the autumn semester enrolled at the ETH in Zürich. I was intrigued by the integration of contemporary design into the historical fabric, cultural regionality, unique system of governance, effectiveness of many national infrastructures and programs, and (of course) the picturesque landscape. Suffice it to say, what I found did not disappoint.

I am still decoding the experience to a certain degree, but I left Switzerland with a new sense of the regionalism that has shaped the architectonic landscape of the country. Issues such as increasing globalization of international economies, growth in immigration rates, and the rise of the European Union are certainly shaping the nation and made it an exciting time to be a resident.

Through extensive journaling, sketching, photography, and video I kept a detailed archive of my day to day experience. I traveled a bit outside of the country, but found myself moving around primarily within the national borders. Though I traveled extensively, I feel as though there was much I did not see or experience— particularly within the French and Italian regions.

This is perhaps the intrigue of the country to me. Much like falling in love, I think I will find myself always desiring a bit more— the opportunity to see it all; to possess the country in its entirety. Though this romantic compulsion may never be fully satisfied, I will find great pleasure returning again and again in the years to come.
This will be available for web viewing soon. In the meantime, it is downloadable below.